DAYS: 000 | MILES: 000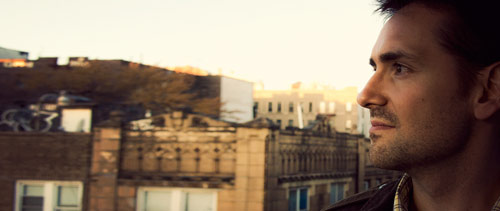 // MY NAME IS DANIELAnd after years of dreaming I've finally sold everything I own and set off on the open road. I put together this site as a sort of photo journal of my travels. Below is a map showing where I've been (in red) and where I plan to go (in white). But like all great plans, mine is open to the whims of chance and opportunity. And so, armed with little more than a backpack, a camera, and a dream, I now tramp the many humble paths of our tiny blue planet. So it goes.
.
KEY





CHAPTER SEVEN / A PERUVIAN TALE
I'm running out of time. I have just two days left to reach my friends in Lima by Christmas and I'm only halfway through Bolivia, practically half a continent away. Knowing there's so much more in Bolivia that I'd like to see, it's with some regret that I board a bus in Sucre and begin the longest journey of my travels so far.
The first leg involves an overnight bus from Sucre to La Paz in the north of Bolivia. I have the very front seat on this very old and very noisy bus. As with almost everything in Bolivia, the bus is more an antique than a mode of transportation. The windows rattle and won't close. The cold mountain air, almost icy at night, slips in freely. I'm freezing. I can't sleep. I try to curl into a ball to conserve heat. It doesn't work. Finally in the dead of night I get up to use the restroom at the back of the bus. It's dark, I can barely see. Perhaps the silhouettes of mountains in the distance are passing by, I can't tell. Yet I do notice that everyone else on the bus is asleep under thick wool blankets. How smart they were to all bring such large, such warm blankets.
The same large, warm blankets. All of them.
I suddenly realize that what I've mistaken for the fabric of my seat was, this entire time, a thick, warm blanket of llama wool. Every passenger gets one. So it goes. I arrive in La Paz just as the sun rises. The view from the bus is all I'll get to see of Bolivia's de facto capital but even just that view, as narrow and short as it is, is stunning. This is a city that never ends; it climbs mountain after mountain, fills valley after valley, a sort of moss of brick and stone that has grown all the way to the horizon. Gondola cable cars run up the mountain sides, over the sprawling houses, like a subway system suspended in the air. Valleys drop off. Hills climb. But still the city keeps going. And then I find myself in the bus terminal.
My timing turns out fairly well. There's a bus to Lima leaving in an hour. I take it. The first few hours seem to get us nowhere. We slog through what I assume are the northern suburbs of La Paz, all traffic and crawling along nondescript streets. Eventually we come to the Bolivian-Peruvian border. Like so many borders I've crossed, there is a town here and that town is cut in half by a river. One side is Bolivia. The other is my destination, Peru. And like so many border towns I've found myself in, this one is dirty, chaotic, without beauty, and yet somehow singularly fascinating. The streets are abuzz with activity. There are those things only to be found in Bolivia being hawked on one side and those things only to be found in Peru being hawked on the other.
I realize I don't know the name of this town and I probably never will. I wait in the Bolivian immigration line on the Bolivian side. Our bus driver tells us our bus will be waiting for us, along with our bags, on the other side. I hope that's true. After waiting in line I receive my exit stamp, find someone else from my bus to follow, and cross the bridge into Peru. The Peruvian side is even more chaotic. Moto-taxis, a type of motorcycle pulling a covered bench, zip by noisily. The line into Peruvian immigration snakes down the main street for nearly three blocks. So I stand in line and I wait, inching closer, one shuffling of my feet at a time. Vendors sell foods, drinks, and exchange money with those in line. The chaos and heat are draining. Finally I receive my entry-stamp. In Peru no visa is needed for me. No money is required. No questions are asked.
As promised our bus pulls up and waits for us. At least most of us. I'm not sure, in all the chaos, how the driver knows if everyone actually finds their way back on board. I'm also not sure how much this keeps him up at night. We travel several hours along Lake Titicaca. With a surface height of 3812 meters (12507 feet or 2.3 miles) above sea level, this is considered the highest navigable lake in the world. With Incan ruins and indigenous villagers still living on artificial islands made of reeds, there is much to see here but I've accepted that Southern Peru will have to remain a mystery to me. Christmas is now a day and a half away and I still have half of Peru to navigate.
Later, in the lake town of Puno, the jumping off point for excursions into the never-ending Lake Titicaca, my faithful companion for several hours now, those like me, going to Lima, have to change buses. There's a forty minute lay over to buy snacks. I don't know what to buy. I've been on buses almost 20 hours now, almost a full day. It's almost 20 more to Lima. So with some dread I board my new bus. I sit alone the first few hours. Then in some industrial town a dozen or so factory workers board, still in their overalls, each smelling like a human sized version of the chemical factories they work. The bus continues through the day, then into night. By now I think we must have reached the Pacific coast. The ocean glitters in the moonlight. I can barely see it. I want to sleep but sleep is what I've done all day. My phone is dead, which means I have no books to read. After all, in our digital age what is a paper book? All forty or so of my kindle books have died with my phone. I begin to wonder how many more hours until Lima. And so it goes.
DAY 433 • LIMA • DECEMBER 2014

MORE PHOTOS ON FLICKR
LIMA · AUTONOMOUS DISTRICT · PERU 4 NIGHTS
Lima, former capital of the New World.
After having just traveled 1398 miles (2249 km) and spending two full nights on a bus, I arrive in Lima, Peru's grand capital. I'm sore. I'm tired despite doing nothing but trying to sleep. I'm dizzy. But I'm finally here. One of my friends in Buenos Aires is from Lima and invited me to spend Christmas with her family, hence the marathon journey to get here. Daniella gives me a tour of the historic center of Lima as well as some of the trendier neighborhoods like Miraflores and Barranco, and finally Chorrillos, the oceanside neighborhood where she grew up. At night her family invites me for Christmas, which isn't so different from Christmas in the US. Santa and his marketing elves have been busy commercializing holidays across the world it seems.
Lima is an impressive city, founded in 1535, and serving as the capital of the Viceroyalty of Peru, the proxy government of Spain in the New World which controlled nearly all of South America, until 1824, when the wars for independence that had started decades earlier in the Spanish New World finally reached Peru. The history of the city is singularly fascinating and the city center has is charm but there are a few modern elements of Lima that I have mixed feelings about. Much like cities in the United States, pedestrians here are second-class citizens to cars in Lima, making crossing the street difficult, frustrating, and occasionally dangerous.
Worse still, many of the main thoroughfares, particularly outside of the historic center, are lined with American fast food restaurants. With so many Pizza Huts, TGI Fridays, Papa Johns, KFCs, and McDonalds at every turn, it's hard to tell sometimes if I'm in South America or Ohio. I fear a day when these cultureless wastelands will consume every corner of the world, when everyone will eat at the same dozen or so restaurants, watch the same dozen or so shows, shop at the same dozen or so stores. For many Americans in the suburbs, this day has already more or less come. Convenient and seductive as that lifestyle may be, it seems to me we're dangerously close to creating a zombie world. The joys of travel will be vanquished. Why travel to new lands when, whether here or there, everyone just goes to Chili's to hang out?
After Daniella's friends get off work, we go to Chili's to hang out. So it goes.
THE PLAZAS OF LIMA
VIEWS OF LIMA: Plaza San Martin (top-panorama, top-row) is one of the most impressive plazas in the city. Plaza Mayor (bottom-row) is home to the Cathedral of Lima (bottom-left) as well as the Government Palace (bottom-middle) and several pedestrian streets at the periphery (bottom-right).
THE NEIGHBORHOODS OF LIMA
VIEWS OF BARANCO: Baranco and Miraflores are two of Lima's most popular neighborhoods for foreigners but Baranco is my personal favorite by far. Situated by the sea (bottom-left), with pedestrian streets lined with cafes (top-middle), a cute central plaza (top-left and bottom-middle), old trams on display from a time before Lima sold it's soul to the automobile (top-right), and as this is Peru, a pisco-sour, the national drink (bottom-right).
THE COASTS OF LIMA
VIEWS OF THE COAST: If I were to compare Lima to Buenos Aires, where I lived the last several months, I'd say Buenos Aires wins in a lot of ways, but the the one area where Lima wins hands down is its connection to the sea. Buenos Aires has turned away from the ocean, while Lima sits on great bluffs with views of the sea reaching to the horizon. And below those bluffs are parks and beaches and the docks of fisherman bringing in fresh catches daily. The sea is Lima's greatest asset and the city hasn't shied away from embracing her.
DAY 435 • HUARAZ • DECEMBER 2014

MORE PHOTOS ON FLICKR
HUARAZ · ANCASH REGION · PERU 3 NIGHTS
Daniella has to return to Buenos Aires, but she still has some time to travel before she goes, so we iron out a plan to travel north together. Our first stop is Huaraz, a city located in the central Peruvian Andes. Nearly 90% of the city was destroyed by an Earthquake in 1970 but it has since rebuilt itself and is now a major destination for mountain climbers and trekkers. Located in a valley, the city is surrounded by impressive mountains on all sides.
We arrive by bus and on AIRBNB I find a hostel called THE HOF. Little do I know that only now do our adventures begin. The Hof is located outside the city, far up the side of Mount Churup. Sitting at 3800 meters (12500 feet) above sea level the hostel was originally a base camp for mountain climbers. The only way to reach the hostel is up a dirt road that passes through two or three Quecha villages.
So when we arrive in downtown Huaraz we find a public phone and call the driver the Hof recommended. Americo meets us near the church at the center of town and turns out to be an incredibly warm and knowledgeable driver. During our nearly hour long drive up the side of Mount Churup, he shares a great deal about the local culture and life in Huaraz.
TAXI UP THE MOUNTAIN
Downtown Huaraz (right) won't win any awards for beauty but the ride up the mountainside might. Our driver, Americo, honks at some villagers as we make our way up the mountain (left) and later we try to avoid the random flocks of sheep and herds of cattle also meandering up the hill (middle).
As we drive through a few Quechua villages, it's worth mentioning a bit about Quechua, which among other things, was the language of the Incas. The Incan Empire was the largest of the pre-European empires, spanning from Chile and Argentina in the south all the way to Colombia in the north. Quechua was the language of the empire, but dozens of different dialects were spoken, along with the hundreds of local languages of conquered groups. The Incan capital was Cusco, in Peru, and today a quarter of Peru still speaks Quechua and nearly a third of those speakers have never learned Spanish. Quite a few English words are derived from the Quechua language (coca, llama, quinoa, jerky, and puma for example). Today the Quechua are an ethnic group, the largest indigenous group in the Americas, numbering around 10 million.
As Americo honks at the cows in the road and swerves to avoid potholes the size of craters, he tells us that unfortunately many young Quechua speakers feel a stigma and in some families the Quechua language is being lost as they, perhaps overzealously, try to assimilate into mainstream Spanish speaking society, believing the only way to do this is to abandon their roots, their culture. Watching Peruvian television, which even here in Huaraz is filled with only the whitest actors, I understand how young Quechua teenagers have difficultly understanding their place in Peruvian society.
THE QUECHUA VILLAGES
Quechua women in traditional outfits (top-left) and the rocky roads through the villages (top-middle). Sometimes the roads through town are only trails accessible by foot, following rivers or old paths (bottom-row). The villages are isolated, but they do have beautiful views of Huaraz below (top-right).
Finally we reach the Hof and are greeted by Ames (not his real name), who more or less runs the hostel single-handedly. Ames is from the Midwest, like myself. Now though he's sort of part caretaker and part prisoner of the Hof. He came as a visitor, having an interest in sustainable living, something the Hof is very focused on, and when the original manager had business to attend to back in the US and needed someone to take over temporarily, Ames agreed. Now, however, it doesn't seem that management is coming back and he's been left with the keys and more importantly the duty of keeping the Hof alive. I'm a little worried to ask him how long he's been here.
But he takes incredible care of us. As we're an hour up a mountainside with civilization a mere glimmer of light on the horizon at night, I suppose we are as much prisoners here as he is. The following day two girls from the US join us. A day later comes a couple from Europe arrive. We all have meals together. We read books. Play with the cats. The couple helps Ames with the gardening. Daniella paints a mural. The American girls plan a mountain hike. This is the rainy season which means it rains a few times a day. Every day. But after every rain the skies clear and the sun returns. I can imagine few places on Earth more beautiful than this.
THE HOF
VIEWS OF THE HOF: The Hof is actually a series of tiny cabins, surrounded by... nothing (top-left, top-middle). There's a common lounge where we take meals together, play with the cats, share music, read books, and contemplate life (bottom-left). It's important to keep to a schedule (bottom-right).
The altitude here is difficult to bear for me. There's a dry compost toilet only a hundred feet from my cabin, but the walk there and back tires me. On our third day we decide to visit Huaraz in search of internet to let the outside world know we're still alive. We have to hike down to one of the Quechua villages, Unchus I think it's called, where we can take a bus (really more of a shared van). We do find a cafe with wifi, we send our emails, we connect with the outside world, then it's time to return. Only now it's raining and there's no way I can make the hike on foot until I'm more acclimated to being nearly two and half miles above sea level. So we call Americo and he comes to our rescue again. I start to feel queasy on the way up, though. It's not the drive, it's something else. Finally I tell Americo we have to stop. I vomit on the side of the road. Then again. Then again. Americo tries to find a plant that will help, but its so dark and rainy now; he tries his best but to no avail. Finally I feel we can continue. The rest of the ride is torture.
We reach the Hof. Ames comes out to meet us. But I'm doing worse. I've lost my energy. Instead of vomiting I'm using the toilet every hour. I'm more or less bed-ridden for two days. One of the American girls works in medicine and offers up her first aid supplies. Ames brews a variety of teas for me. I've never been sick like this before. But in the end I emerge, like the phoenix, my strength and appetite return. But sadly it's time to go. We need to make our way to the bus station in Huaraz. So we call Americo one last time.
PARADISE AT THE ENDS OF THE EARTH
The mountains and lands surrounding Huaraz and the Hof.
DAY 438 • CAJAMARCA • JANUARY 2015

MORE PHOTOS ON FLICKR
CAJAMARCA · CAJAMARCA PROVINCE · PERU 2 NIGHTS
Vista of Cajamarca.
From Huaraz we take a bus to Trujillo, on the Pacific Coast, in order to transfer to a bus to Cajamarca. Basically we leave the Andes in order to come back up them on a different road. It's the easy way, the highways all follow the coast, but I promise myself next time we'll find a way through the mountains, not around them.
Where Huaraz was a city rebuilt from rubble (and not rebuilt all that beautifully to be honest) Cajamarca is a handsome colonial town and one of the most important cities in the northern Peruvian Andes. It's all red-tiled roofs and impressive cathedrals surrounded on all sides by mountains and hillside fields. The people of Cajamarca were conquered by the Incas sometime between 1463 and 1471, only a short time before the demise of the Incan Empire itself. In fact, the Incan empire officially ended here in Cajamarca, when Atahualpa, son of the recently dead Emperor, marched to Quito, Ecuador and defeated his brother Huáscar, ending an Incan civil war over succession of the throne. On his way back to the Incan capital of Cusco, deeep in Southern Peru, the victorious Atahualpa stopped in Cajamarca, only to be captured by Spanish Conquistadors. The Conquistadors forced him to give up control of the empire to Spain, convert to Catholicism (to avoid being burned alive, a fate the Incans believed prevented one's soul from transcending), and then they executed him just the same in 1533, effectively ending the empire.
In Cajamarca we hike up the hillside to see a vista of the city. It's also New Years so at night we go out to celebrate. In the central plaza, beautiful and lively at midnight, the villagers, some in their traditional clothing and large hats, light off fireworks. It's a beautiful night. The following day we continue on.
THE TOWN
VIEWS OF CAJAMARCA: From the colonial plazas, ancient churches, stone streets and alleys, Cajamarca embodies a sense of history.
THE HATS
The dress of the local peoples of Peru vary greatly from region to region. It's often possible to know where someone is from by their manner of dress, right down to the type of hat they wear. In Cajamarca the local Quechua women where a very particular style (see photos). Additionally two braids signifies that a woman is married.
THE MOTO-TAXIS
Ubiquitous in Peru. The moto-taxis of Cajarmarca are covered, turning them into tiny cars.
DAY 440 • CHACHAPOYAS • JANUARY 2015

MORE PHOTOS ON FLICKR
CHACHAPOYAS· AMAZONAS REGION · PERU 2 NIGHTS
Our next destination is Chachapoyas. We're told there's no bus service between Cajamarca and Chachapoyas, but having been forced to leave the mountains for the coast once already and regretting it, I refuse to believe this. Where there's a will there's a way. And also I can clearly see that there's a road on the map. So if there's no direct bus, maybe we can take a series of buses. Villagers always have a way of getting to the next village. We just need to figure out how they do it. So I find a bus to Celendin, which is about halfway between Cajamarca and Chachapoyas. This trip takes only a few hours. And sure enough, in Celendin, there's a bus that runs the difficult stretch to Chachapoys, one of Peru's most isolated cities.
THE ROAD TO CHACHAPOYAS
Virgin Del Carmen (left) runs buses from Celendin to Chachapoyas, though the trip is long, curvy, and everyone is given a small bag (to potentially vomit in, if that tells you anything). The trip though is magical, one of the highlights of my travels so far.
As the crow flies, Celendin is only about 48 miles (79km) from Chachapoyas. But the bus takes roughly half a day to get there. This is because it must fight jungle mountains, cloud forests with zero visibility, hairpin curves with sheer drop offs, and ultimately travel hundreds of kilometers more than it should as it loops back and forth endlessly to make its way up the sides of mountains, then over them, then back down the other side. No food is served, but in those cloud forests is a restaurant on the side of the mountain where we stop for 30 minutes. Lunch is only a dollar, but there's only one item on the menu, rice with beans with chicken.
Chachapoyas is cute, charming, and tranquil. I have the feeling it hasn't quite hit the tourist radar yet, but with an abundance of pre-Incan ruins, burial sites, waterfalls, mountain hikes, and local cultures I think it won't be long.
VIEWS OF CHACHAPOYAS: Handsome but dull. And unfortunately I didn't have time to explore the natural areas outside of town. One bit of trivia, though, it was from the local tribes in the Chachapoyas region that Indiana Jones steals the fertility idol in beginning of Raiders of the Lost Ark.
DAY 441 • TARAPOTO • JANUARY 2015

MORE PHOTOS ON FLICKR
TARAPOTO · SAN MARTIN REGION · PERU 4 NIGHTS
Tarapoto is our final destination in Peru. There are new highways on this side of the mountains so the bus ride here is fairly tame compared to the trip to Chachapoyas. Arriving in Tarapoto, I can say the city won't win any beauty pageants. The architecture is all square concrete or brick blocks, many occupied but unfinished, as if expecting second and third levels to be built in the near future. Sometimes they are. The streets are laid out in Earth's most boring format, the ubiquitous grid. Somehow even the main plaza, nearly always cute in Peru, with a handsome church and trees, manages to be unattractive in Tarapoto. It's too utilitarian and the church is a squat modernist nightmare. But what the city lacks in looks, it makes up for in raw energy. Here there are armies of moto-taxis zooming by, there are vendors under umbrellas at every corner, food on grills being sold on almost every street. And there are the legions of backpackers. For Tarapoto is the gateway into the Amazon.
THE ROAD TO TARAPOTO
The road between Chachapoyas and Tarapoto is similarly magical to that between Chachapoyas and Cajamaraca. We took a smaller bus and stopped at a small restaurant, deep in the jungle, overlooking the side of a mountain, just as we had on the other trip. And similarly, there was only one thing on the menu (rice,beans,chicken) and similarly it was also less than two dollars. We pass a few villages along the way (bottom-right).
I found a hostel on AIRBNB. The hostel and the family that runs it are wonderful, and it cost only a few dollars per night, but I'm reminded just how far from civilization we've come. The roads in our neighborhood are dirt, strewn with rocks, and there's a ravine that must be crossed by wooden boards to reach the houses. There's no hot water. Not that one needs hot water in the jungle. Much of the neighborhood is made of concrete blocks with exposed rebars reaching to the skies, awaiting future levels to be added when the families come into more money. Children play games in the streets. Dogs, which may or may not have owners, search for scraps. Old women sit in chairs outside their houses to chat with neighbors. Moto-taxis speed by. It's actually a rather magical place.
We stay in Tarapoto several days. There are many jungle tours available but Daniella and I are both on a budget and our plan is to cross over into Ecuador and from there head back into Peru down the Rio Napo, with our final destination being Iquitos, Peru's great Amazonian metropolis, a city buried so deep in the jungle that it can only be reached by plane or boat. So we decide to save our money for there, the heart of darkness. Instead in Tarapoto we find a favorite cafe that we spend a few hours at every day while working on our computers, Daniella on her art and me on my writing. And every day at the cafe we're visited by monkeys, tiny and mischievous monkeys.
If this is the jungle, give me more.
CITY OF CHAOS
VIEWS OF TARAPOTO: The moto-taxis of Tarapoto are different than Cajamarca. Here they are open to the sky and freely painted (top-row). I'm not sure if the street our hostel was on even had a name (bottom-left, bottom-middle). And a few of the streets in Tarapoto's center (bottom-right).
HEY HEY WE'RE THE MONKEYS
Tamarins who love coffee. I think they live in the cafe's courtyard.
PREVIOUS CHAPTER
// BOLIVIA
NEXT CHAPTER
ECUADOR! [ coming soon ]