DAYS: 000 | MILES: 000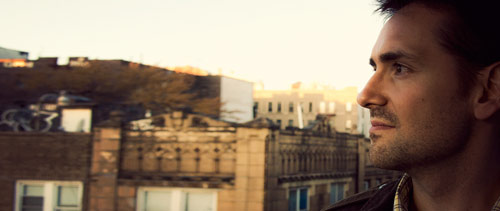 // MY NAME IS DANIELAnd after years of dreaming I've finally sold everything I own and set off on the open road. I put together this site as a sort of photo journal of my travels. Below is a map showing where I've been (in red) and where I plan to go (in white). But like all great plans, mine is open to the whims of chance and opportunity. And so, armed with little more than a backpack, a camera, and a dream, I now tramp the many humble paths of our tiny blue planet. So it goes.
.
KEY





CHAPTER EIGHT • BANANAS COFFEE & CHOCOLATE
ECUADOR // Through an ever changing collection of buses, shared taxis, and even a chiva (sort of a flatbed truck with benches bolted in the back) I´m able to make it across one of the most obscure border crossings in South America, the Peru-Ecuador crossing over the Canchis River at La Balsa. The road less traveled by.
Ecuador turns out to be one of my favorite countries in South America. Peru and Ecuador share a great deal in common, and despite border wars in the 80s they could almost pass as sisters, but they diverge in ways as well. Ecuador's villages are more picturesque, each huddled around a handsome cathedral, each framed by a mountain. Ecuador is quite blessed by an endless array of green rolling mountains, from border to border, with the addition of a sea to one side and a jungle to the other. The ubiquitous concrete and mortar houses, really nothing more than utilitarian boxes, so prevalent in the towns and villages of Peru, are less common here. It's only an impression, but Ecuador strikes me as the wealthier and more tranquil of the two.
I spend a month in Ecuador, staying several weeks in the historic colonial cities of both Cuenca and Quito, along with visits to the coast, to the jungle, to the mountains, and to the towns of some of Ecuador's indigenous peoples. I make some new friends, stay with some local families, and have the first major disaster of my travels so far, which sadly cost me almost all my photos of this beautiful country. But more on that later.
So without further adieu // ECUADOR
DAY 445 • LA BALSA • JANUARY 2015
LA BALSA · ZAMORA PROVINCE · ECUADOR BORDER CROSSING
PERU, ECUADOR, AND A RIVER THAT DIVIDES.
Today starts out normal enough. It's my final day in Peru before crossing into Ecuador. I'm still traveling with Daniella and we're still trying to make it to Brazil in time to see our third friend Ragnhild, who will be there for a few weeks. The plan is make our way into the Ecuadorian jungle and from there take a cargo ship down a series of rivers into the Brazilian Amazon. It's an ambitious plan. But sometimes one must dream big.
I've chosen to cross the border at La Balsa, one of the most obscure border crossings I've made yet. I can't have imagined just how magical this border crossing would be. On the Peruvian side I take a bus from Tarapoto to Jaen. Daniella and I arrive late enough that we decide to stay the night and make the crossing in the morning. The hotel is only around $9 USD but there's no hot water, no fan, and of course no wifi. That's been pretty standard ever since leaving the comforts of Lima. Also half of Jaen seems to be under construction. The main roads are all ripped open.
Early the next morning we take a van-like bus to San Ignacio, a small town close to the border, which like Jaen is also rather non-descript. I've found that there are many towns and villages in Peru built from these red concrete blocks, making them not only all look the same, but feeling very much like giant Lego sets. What they lack in looks, however, they often make up for in raw energy. In these towns are legions of moto-taxis and entrepreneurs of ever stripe selling wares and foods along the sidewalks. I imagine its very much like being inside a bee's nest. From San Ignacio we take a shared taxi to the border. The taxi is beat up. We share it with two locals. It´s a much longer journey than I had expected. And then finally we arrive in La Balsa.
There are two villages here, one on either side of the Canchis River which separates Ecuador and Peru. There is only a humble bridge to connect them. I can´t figure out which village is actually La Balsa. Neither is more than a collection of a few buildings. I think they both might be called La Balsa to be honest. There´s almost no one here. I see some baby chickens wandering around. A dog is sleeping. One can hear the breeze through the mountain forests and there´s that feeling, somewhat pleasant actually, of being in the middle of nowhere. It's a great respite from the chaos of moto-taxi towns.
I´d read that this was a quiet and rarely used crossing point, but I didn't realize that the Peruvian immigration office would be abandoned. Fortunately it turns out the immigration officer is just asleep on a couch in another room. We receive our exit stamps and walk across the bridge to Ecuador. We cross alone. There are no cars. No other border crossers. Only the sounds of the river.
The Ecuadorian La Balsa is even quieter than the Peruvian one, if that´s possible. There´s less than a dozen houses and buildings. We´re told by an old woman that there will be a bus to Zumba, the nearest town, in about three hours. We head to the Ecuadorian immigration office to find this one abandoned too, though this one is actually abandoned. No guard asleep in another room. Just a door wide open, a computer at a desk, and no one there. An old man on the street tells us the immigration officer is playing volleyball down by the river. We´ll have to wait for him to finish. So we decide to get lunch which involves walking back across the bridge into Peru because unlike the Ecuadorian La Balsa, the Peruvian La Balsa has a tiny restaurant. So it goes.
The Ecuadorian immigration officer returns just before the bus is about to leave. There´s a few locals now waiting for the bus. The only other gringo is an Italian traveler. Gringos have a way of grouping together even when in normal life we'd probably have little in common. So we all sit together on the chiva, which is sort of a magical bus, the sides of which are open to the sky, or in this case, open to the sheer drop-offs of the Andes mountains. We head up and down dirt roads, navigating sharp turns, crossing tiny rivers, circumventing grand mountains. At times I think I´m going to bounce right out of the chiva. But I have to admit, this ride, through those dirt roads, along those mountain passes, without windows (or seatbelts) is one of the most unforgettable experiences of my journeys so far. I´d read that the route between La Balsa and Zumba was one of the most beautiful in Ecuador. I´d venture to say it might be one of the most beautiful in South America.
THE CHIVA RIDE
DAY 445 • VILCABAMBA • JANUARY 2015

MORE PHOTOS ON FLICKR
VILCABAMBA · LOJA PROVINCE · ECUADOR 2 NIGHTS
The chiva drops us off in Zumba around nine at night and we have to make a choice: stay the night or take the overnight bus that´s about to leave. The Italian decides to stay the night in Zumba. We chose the overnight bus to save on the cost of a hostel. I'm still not sure who made the better choice.
It turns out Vilcabamba, our destination, isn't actually that far from Zumba. So while I had expected to arrive around 7 in the morning, we arrive more like 2 in the morning. Normally that wouldn't be a huge problem. I've been in enough towns by now to know that there are hostels near the bus station and they almost always have a clerk on duty overnight. In Vilcabamba though that doesn't seem to be the case. Murphy's Law, I guess.
The village at this hour looks like a ghost town. We venture from street to street in the dead of night, ringing the bells of the few hotels we find, but none of them answer. After nearly forty minutes we begin to accept that me might be spending the night in the town square. Until now we haven´t seen another soul in town. That changes when we´re ringing the bell to one of the last hostels we can find and a woman comes down the street, so drunk she can barely walk. From her accent I´d say she´s from the US. She wants in the hostel too, though I think she's already a guest. When ringing the bell doesn´t get her anywhere she starts pounding on the door. This approach works. A tired looking man finally opens the door and lets her in. We´re saved! But he tells Daniella and me there's no vacancy for new guests. We're doomed.
We try one last hotel in desperation. We ring the bell to no avail. We are at a loss what to do. A taxi pulls up to us and offers some other suggestions, some of which involve traveling all the way to the next town. But then miraculously a tired looking man opens the door. More miraculously he has rooms. The place is beautiful but definitely not a place for the budget crowds. I take it of course; I´ll pay what I need to pay to avoid sleeping in the town square. But the next day we search around and find a hostel for only $20 USD. This one has private rooms with a shared bath and perhaps one of the most beautiful courtyard gardens I've ever seen. I normally don't make recommendations, but if you ever stay in Vilcabamba, stay at the Hotel Le Rendez-Vous.
My hotel in Vilcabamba; the 'RENDEZ-VOUZ'
Over the next two days we hike. We explore. Vilcabamba is cute and rustic, a charming town, a nice diversion from the utilitarian architecture of the last few Peruvian towns I've been in. But its the mountains here that really steal the show. Walk in any direction and within just a few blocks you're at the foothills of paradise. Vilcabamba does mean Sacred Valley after all. Foreigners seem to know this; it's a major retirement community for Europeans and North Americans. The Incans seemed to have known it as well; this was once a retreat for Incan royalty. Before we leave we take a local beer at a local bar. Then by some fortune we see the Italian walking by. We share a beer. I imagine his night had been a lot less uncertain than ours. So it goes.
VILCABAMBA
VIEWS OF VILCABAMBA: Rustic and charming, with a natural setting not unlike paradise. A great number of US Americans and Europeans have retired here. It's safe, unexploited, slightly off the beaten path, and Ecuador uses the US Dollar as its national currency which simplifies bi-national living.
THE SURROUNDING HILLS
Enter, tired soul, and find respite for ye have entered Eden
DAY 448 • LOJA • JANUARY 2015
LOJA · LOJA PROVINCE · ECUADOR 1 NIGHT
Loja is the halfway point between Vilcabamba and the famed city of Cuenca, so we decide to stop for the night. For only $10 USD we find a private room with a shared bath in the city center. Loja is pleasant though as more or less an 'ordinary' Ecuadorian town, not overwhelming. There are old colonial streets. A typical outdoor market. The Pan-American Highways runs through the city, connecting Peru in the South with Colombia in the North. For this the city has built a gate, modeled after a European castle, to welcome passing visitors. A few hours is all we need to explore the town. And then we're off.
EDIT // DISASTER STRIKES: So as I hinted at before, and will go in detail later, I lost my camera and computer. If that wasn't bad enough, through pure negligent laziness on my part, I lost nearly five weeks worth of photos with them. I normally backup my photos on the cloud after I sort them, but my travels had been such a whirlwind with only intermittent (and rarely usefull) wifi, that several weeks went by, more than I realized, without backing up and all of my photos from Cuenca (and Quito and many other places) were lost. As such, for the places I lost, I've used a few photos from online sources. They are all public-use photos and I've given the original photographers credit if you hover over the photos. Any photo that is not mine has a green border. Daniella and Oliver who were traveling with me also shared a lot of their photos, which greatly helped me continue to tell the story of Ecuador. I promise to explain the mystery of what happened when I write about the Amazon River, the Gods of which took my camera and computer.
VIEWS OF LOJA: [All photos taken by Daniella] Nearly every town in South America is built around a central plaza with a church and Loja is no different (top-left), Simon Bolivar (bottom-left) is the George Washington of South America, a statesman and military commander that led a revolutionary war against Spain in 1808, gaining independence for his native Venezuela, as well as Colombia, Panama, Ecuador, Peru, and Boliva, which was named after him. Loja's gatehouse to the Pan-American Highway (bottom-right).
DAY 449 • CUENCA • JANUARY 2015
CUENCA · AZUAY PROVINCE · ECUADOR 15 NIGHTS
There are a handful of truly magical cities in the world. Cuenca, I´d say, is among them.
We end up staying nearly two weeks in Cuenca. This is partly because I have to apply for a Brazilian Visa and there's a Brazilian Consulate here. The visa process is lengthy (and expensive) and there's no way around it. So I rent a private apartment on AIRBNB near the historic city center and wait.
As an aside for future would-be visa seekers, I wasn't sure if I would even be able to apply for my visa here (and not just because the Brazilian website says you need to apply at the consulate closest to your home address). It was hard to confirm there was even a Brazilian Consulate in Cuenca. Internet searches listed contradictory addresses and wrong phone numbers. A few bloggers I'd found had said they had given up entirely and just went to Quito for their visa. There was nothing on the Brazilian embassy homepage that I could find to either confirm or deny the existence of the mysterious Cuenca consulate rumored to exist on business listing pages.
One address online did look promising, though, so we headed out to find it. We walked. And walked. And walked. It turns out the address was in the outskirts of town, in a district of car dealerships and auto repair shops. The further we went the more I thought the Consulate couldn't possibly be here. Consulates and Embassies are the public faces of nations and countries pay a lot of money to put them in stately mansions in trendy districts. This was a strip mall highway lined with used car lots. I've been hoodwinked by the internet once again. But then, against all odds, I saw a Brazilian flag.
On top of a car dealership.
I can now confirm there is indeed a Brazilian Consulate in Cuenca. It's just that its located on the second floor of a car dealership in the middle of no where. So it goes. The visa process takes ten business days so I have lots of time to wait. But if you have to wait somewhere for a visa, Cuenca is not a bad option. The entire city center has been declared a UN World Heritage Site. Walking through Cuenca is like walking back in time. The Canari first settled what would become Cuenca around 500 AD, naming the city Guapondeleg. The Incas conquered the Canari several centuries later and renamed the city Tomebamba, making it the regional capital of the northern reaches of their empire, a second Cusco. Finally the Spanish conquered the Incas. They destroyed much of the old city. As such the ´modern´ city of Cuenca was established in 1557 AD.
VIEWS OF CUENCA: I lost all my photos, of which I had hundreds. These that I found online really don't do the city credit.
DAY 454 • GUAYAQUIL • JANUARY 2015
GUAYAQUIL · GUAYAS PROVINCE · ECUADOR 2 NIGHTS
I decide that while I'm waiting for the visa, I should take a short trip to the coast. My first stop is Guayaquil. This is Ecuador's largest city, though unlike the charming colonial cities further inland, this is an industrial port center and generally not a big tourist destination. I sort of see why as we arrive. The center of Guayaquil is the closest thing I've seen so far in South America to a city in the American Midwest. It's very utilitarian, not very attractive, and is lined with rows of tall buildings almost entirely devoid of character, just collections of square boxes of concrete and glass. The downtown is also pretty much dead at nights and on weekends, another staple of the classic Midwestern 'downtown' where mixed-use is frowned upon.
But that's not to say the city is totally without charms. The new riverfront, the Malecon 2000 (odd name, I agree), is a mile and half long and has won accolades for both its design and its focus on urban regeneration. And the Malecon 2000 leads into the neighborhood of Las Peñas, a small colonial enclave, where the streets are steps climbing ever higher and where the historic buildings have been converted into bars and cafes.
VIEWS OF GUAYAQUIL: The colorful neighborhood of Las Peñas on Cerro Santa Ana [all photos taken by Daniella].
THE MALECON 2000
A modern river-walk for a river city.
THE IGUANAS OF GUAYAQUIL
FTW. A plaza inhabited by Iguanas.
DAY 455 • MONTAÑITA • JANUARY 2015
MONTAÑITA · SANTA ELENA PROVINCE · ECUADOR 2 NIGHTS
From Guayaquil we take a bus to Montañita, famed Ecuadorian beach town (if I have to wait for my visa, might as well wait on the beach, right?). Though Montañita turns out to be a little different than I expected (this is only because I hadn't actually read anything about the town before arriving. I had just assumed that if you combined the tranquility of Ecuador with the beauty of the sea, you'd get a tranquil beach town, quiet and magical, much like the little villages lining the Uruguayan coast that I'm so very fond of. Turns out I was wrong on that one).
We arrive at night and even before stepping off the bus I can hear the music blaring from the rows of bars and clubs on sand streets that press against the beach. In finding a hotel we have exactly the opposite problem we encountered while arriving at night in Vilcabamba; the moment we're off the bus we're surrounded by touts trying to shoo us into this hostel or that. A quiet beach town this is not. In Montañita the streets are literally turned into dance clubs at night and entire frat houses seem to arrive by the bus load by the hour. But it is a very beautiful beach. Too bad I lost all my photos.
VIEWS OF MONTAÑITA.
DAY 459 • BAÑOS • FEBRUARY 2015
BAÑOS · TUNGURAHUA PROVINCE · ECUADOR 4 NIGHTS
HITCHING A RIDE
After a few days on the coast we return to Cuenca. But my visa still isn't ready (come on, Brazil). We stay at a hostel this time and end up making a friend, Oliver the Canadian (not his real name). He's heading to Baños, so we decide to join him for a few days. I'm a little leery at first. This time I actually do a bit of reading and it turns out that like Montañita, Baños is one of those places filled with foreigners ready to party. It turns out though that the Baños crowd isn't quite so frivolous. The backpackers here at least have come to conquer mountains. In Baños one can bungee off a bridge, scale a waterfall, or swing into oblivion.
The three of us find a cheap hostel with a private bath for $7 USD a person (Israel Hostel near the bus station). Despite my initial reservations Baños turns out to be a wonderful town. One of our many highlights is the trip to the Tree House (Casa de Arbol). Located at the top of a mountain there's a tree house (no surprise) with a swing that swings right off the side of the mountain. Supposedly there's a view of the neighboring volcano from here too, but all I see is a wall of fog, a wall of nothingness, and in that nothingness, a glimpse of eternity.
We took a bus up the mountain to the tree house but decide to hike back down. It's a beautiful hike, through roads that cut through corn fields and tomato tree farms (yes, it seems there are tomatos that grow on trees). But after a few hours we're exhausted and I don't think we're even halfway back to town. So we stick our thumbs out and hitch a ride with an old man in his Jeep. At least I think it's a Jeep. At one point I'm just hoping it doesn't fall apart hitting the next bump. But we make it. And when I call the Brazilian Consulate, my visa is ready. It's time to return to Cuenca one last time.
VIEWS OF BAÑOS: [all photos taken by Daniella and/or Oliver] Banos is a city craddled in the valley of mountains, with waterfalls to one side and rivers to the other. It is the gateway into Ecuador's jungles and a bastion of adventure and nature tourism.
DANIELLA JUMPS
Between the three of us only Daniella had the guts to jump.
DAY 462 • AMBATO • FEBRUARY 2015
AMBATO · TUNGURAHUA PROVINCE · ECUADOR 1 NIGHT
We head back to Cuenca where I pick up my passport with my new, beautiful, full-page, vibrantly colored, Brazilian visa and then we're off for Quito, Ecuador's grand capital. But first we stop in Ambato, more or less because its halfway and lately I've been trying to avoid overnight buses. I will say I'll miss Cuenca, it's a beautiful city, I made good friends there, found my favorite spots to have a coffee or go for a walk, and was able to relax a bit on my whirlwind journey.
Ambato is a quiet and pleasant town. I have the feeling its not really part of the tourist circuit, though the river is nice, the markets at the edge of town very interesting, and we find a cultural museum showcasing works from Colombia. But like Loja one only needs a few hours to explore the town, so after a quick look around, we're on our way.
THE TOWN
VIEWS OF AMBATO: All photos taken by Daniella.
THE MARKET
VIEWS OF THE MARKET. The markets, one of my favorite parts of Latin America.
DAY 463 • QUITO • FEBRUARY 2015
QUITO · PINCHINCHA PROVINCE · ECUADOR 11 NIGHTS
Yellow Line aka the Equator.
The bus to Quito, Ecuador's capital, is only a few dollars. They seem to run every fifteen minutes or so from Ambato. We get dropped off at the Southern Terminal in Quito, which turns out to be on the far side of the city outskirts, further away even than the airport. A few taxi drivers solicit us. One starts at $15 USD before coming down to $12. I find it strange that you can travel halfway across the country by bus for less than $10 USD but a taxi ride between the bus station and the city center is $12. So it goes.
I've reserved another apartment on AIRBNB, this time with a family. David and his family (and especially his tiny dog) are great. The apartment is located in the northern suburbs, in what appears to be a fairly wealthy district. The neighborhood is modern and a bit borning, though the apartment is located on the side of one of the many hills that make up this sprawling city of hills, and the views are amazing.
Oliver arrives in Quito a few days behind us. We meet up at a Quebecois restaurant for traditional Canadian poutine (in a trendy neighborhood sometimes referred to as Gringo Land). The city center of Quito (along with the city center of Krakow Poland) was the very first UN World Heritage Site ever, declared in 1978 as part of a new program, funded by the governments of the world to protect and preserve sites deemed to have outstanding importance to the common heritage of humanity. Today Quito has one of the largest, least-altered, and best-preserved historic centers in the Americas.
For the urban planning buff, Quito also has a BRT (bus rapid transport) system. BRTs have been growing world wide (though sadly the US has been slow to embrace them). A BRT is basically an above ground subway system with buses. They provide many of the benefits of subways at a tiny fraction of the cost. Basically they use existing roads and have their own protected lane. In Quito these lanes are protected with concrete buffers and there are station stops much like a real subway, complete with turnstyles and sliding doors on level with the buses. Because cars can't enter the bus lanes, the buses are unobstructed by traffic or traffic jams and can criss-cross the entire city in a fraction of the time it takes private commuters. US cities often have bus-lanes, but because they are not protected they are often clogged by double-parkers, cabs, and even cop cars. For a BRT to be effective, it has to be all in. At only 25 cents per, Quito's BRT system is a bargain. The city also has a bike share program and despite the effectiveness of the BRT Quito is currently constructing Ecuador's first subway system, slated to open its first stations in a year. As an advocate for mass transit, I wish them well.
We also visited the Mitad Del Mundo, or Middle of the World. Ecuador's name doesn't sound like the word 'Equator' for nothing and near Quito is a monument celebrating the line between the Northern and Southern hemispheres (photo above of Daniella with one foot in each hemisphere).
VIEWS OF QUITO: It's worth mentioning that Ecuador's health care system is high quality and free, even for tourists. I experienced the system myself, I went to the hospital with Daniella so she could get her Yellow Fever Vaccination. If only I had known, I wouldn't have paid $160 to get my vaccination before I left the US (and that was with private insurance). Ecaudor's food is also quite good; I'm particularly a fan of rice, beans, egg, and fried banana (bottom-middle) which I often can get for $2.50 USD.
DAY 470 • OTAVALO • FEBRUARY 2015
OTAVALO · IMBABURA PROVINCE · ECUADOR 4 NIGHTS
Patricia's daughter in traditional dress.
My original plan after Quito was to make east for the jungle. After all, the river to Brazil has been my destination from the beginning. But a few backpackers I've met have suggested a town only a few hours north of Quito.
Otavalo is one of those places that you hear about from other travelers from time to time. It is largely an indigenous town and as such traditional dress is common place. The native Otavaleños are one of the most prosperous indigenous groups in South America; not only does their market attract visitors from all over the world, but many Otavaleños travel over seas to sell their crafts and export their famed music. During the Saturday Market nearly a third of the town is covered in stalls, selling everything from hand made instruments, to dream catchers, to the textiles the locals are most famous for. Otavalo's market actually dates back to before the arrival of the Incan Empire. During Colonial times the Spanish imposed a guild system on the region and individual towns became focused on particular trades. In Otavalo it was textiles. In nearby Cotacachi it was leather.
Oliver arrives a day or two after us and takes a hostel in the town center but Daniella and I actually end up staying in Cotacachi, the next town over and interesting in its own right. We stay with a indigenous family I found on AIRBNB. Patricia's family and house turn out to be one of the most amazing parts of my trip so far. I'm rather heartbroken I lost most of the photos (Patricia even dressed Daniella up in traditional Otavalan dress and took us to an indigenous ceremony to pay respect to their ancestors). Patricia cooked traditional meals for us, gave us a tour of her farm, let us milk her cows, and her husband explained us quite a bit about the balance between the indigenous way of life and the modernity of Ecuador (a particular sore point were Christian missionaries who were coming in great numbers, often from foreign countries, and were convincing the local people that their elaborate clothing was 'vain' and should no longer be worn. I'm sure the missionaries mean well, but traveling to someone else's lands and telling them that their customs are inferior to your own is about the vainest act I can imagine.)
THE MARKETS OF OTAVALO
All photos by Daniella.
THE TRADITIONAL DRESS
Again, all photos by Daniella.
PARICIA'S FARM
Patricia and her family grow quite a few things, including potatoes (bottom-left), quinoa (bottom-middle), and tomatoes from trees (bottom-right). Daniella is a street artist, using mostly stencils, and Patricia let her make a mural of a traditional Otavalo woman in her foyer (top-row).
LAS ORQUIDEAS
Near Otavalo is Las Orquideas, a crater lake and park reserve. We hiked around the perimeter.
It is in Otavalo that we have to say farewell to Oliver, he is heading to the coast and we to the jungle. Sometimes you're able to travel together with great people and this has been one of those times. As it turns out though, this will not be the last time we will see our Canadian friend. But for the present we're off, though not to the jungle as originally planned. At the last minute we decide to make a detour. The Colombian border is just a few short hours away. Colombia was never on my itinerary, to be honest it never sounded that safe to me, but we're so close: so maybe just a quick hop over the border, get that nice entry stamp for the passport, and then we could be back on our way to Brazil. So with that idea in mind we head north to Colombia and my chapter in Ecuador comes to a close. So it goes.
PREVIOUS CHAPTER
// PERU
NEXT CHAPTER
// COLOMBIA! [coming soon]